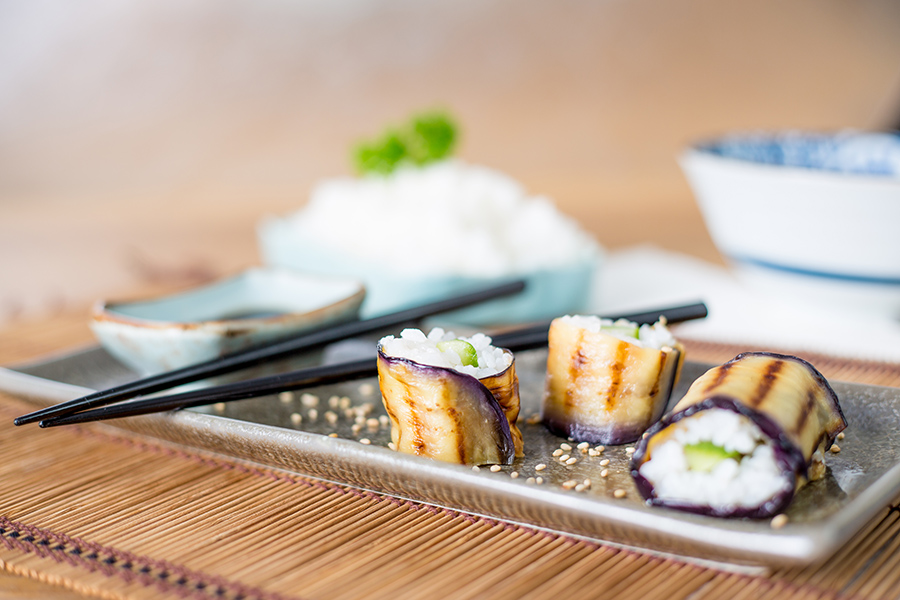 Ingredients
2 medium size aubergines
6 tbsp olive oil
2 tbsp sesame oil
200 gr sushi rice
275 ml water
40 ml sushi or rice vinegar
1 lime
1 cucumber
Sesamdressing:
2 tbsp sesame seeds
2 tbsp black sesame seeds
1/2 tsp fresh ginger, grated
2 tbsp soy sauce
1 cup ginger syrup
2 tbsp rice vinegar
1.5 tbsp sesame oil
Recipe
Serves 4-6 | approx. 60 minutes

Preparation:
1. Cut the aubergines lengthwise into equal slices of around half a centimetre. Mix the olive oil with the sesame oil and brush the aubergine slices on both sides with the oil. Sprinkle some sea salt and place them side by side as a single layer on a large plate or platter. Cover with cling film and add another layer. Put a final cling film cover and place a weight on top of the covered aubergine layers and put it aside for 30 minutes. This way the aubergines will soften and the grilling process will improve.
2. Rinse the sushi rice in a sieve with cold water and drain it. Add the rice in the water and boil it for 10-12 minutes. (Or follow the instructions on the package). Cover the pan as soon as the rice is boiling. Remove the rice pan when it is finished. Season it with sea salt and sushi vinegar (stir with a fork) and let the rice rest in a covered pan for about 10 minutes. Then divide the rice on a large plate or flat bowl and allow it to cool down.
3. Peel the cucumber, split it into four equal pieces. Cut thick slices lengthwise and cut into slices of half a centimetre. Zest the lime and sprinkle the juice over the cucumbers.
4. Roast the sesame seeds in a clean frying pan for about 2 minutes until golden brown. Mix all the listed ingredients for the dressing.
5. Dab and dry the aubergine. Preheat a grill pan and grill the sliced aubergine on both sides for 2-3 minutes until golden brown. Let the slices cool off a bit.
6. Put some sushi rice on each aubergine slice, put the cucumber on top and cover with sushi rice. Thoroughly push the rice down. Tightly roll the aubergine slice over the filling and continue rolling. Complete the other aubergine slices. Estimate 3 aubergine rolls per person.