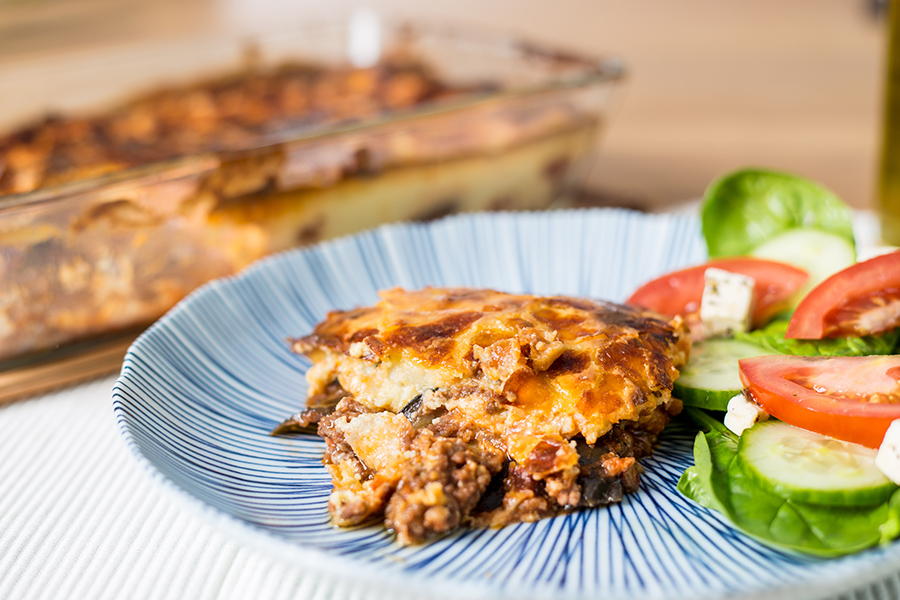 Ingredients
4 aubergines, sliced lengthwise in slices of 1 cm
salt
950 ml milk
110 gr butter
6 tablespoons Flour
Salt and pepper to add flavour
3 eggs, whipped
7 tablespoons olive oil
2 onions; grated
3 cloves of garlic, finely chopped
500 gr lean beef mince
1/2 teaspoon pimento powder
Snufje Pinch of cinnamon
1/2 teaspoon sugar
Salt and pepper to add flavour
400 gr sieved tomatoes (Passata)
4 tablespoons fresh curly parsley, chopped
1 eggs, whipped
120 gr fresh Parmesan cheese, grated
Recipe
Serves 8 | approx. 120 minutes

Preparation:
1. Sprinkle the aubergine slices with salt and place them in a colander above the sink or a bowl. Let the aubergine rest for 30 minutes up till 1 hour, so the bitter aubergine juice will extract and drain.
2. Meanwhile, prepare the bechamel sauce. Heat the milk in a pan (do not boil). Melt the butter in a large frying pan on a medium temperature. Add the flour with a whisk until a smooth consistency. Lower the heat and slowly add the warm milk, keep stirring (with a whisk) until it thickens. Season with salt. Remove the pan and let it cool down, then add the egg yolks into the sauce. Put aside.
3. Once the aubergine's juices have drained properly, rinse the aubergine, squeeze out and dry it gently with kitchen paper.
4. Heat 3 tablespoons of olive oil in a large frying pan. Fry the aubergine on both sides until they are light brown. Put them on a plate with kitchen paper.
5. Preheat the oven at 190 °C. Grease an oven dish (approx. 22x23 cm) with olive oil.
6. Heat the remaining 4 tablespoons of oil in a large frying pan (low temperature). Fry the grated onion for about 4 minutes until soft. Add the garlic and fry for another minute. Increase the temperature and add the beef mince. Stirfry for another 5 minutes until the mince beef is brown.
7. Add the pimento, cinnamon, sugar, salt, pepper and sieved tomatoes. When it boils, simmer it for 15-20 minutes until the mixture is dry and all the liquids are gone. At the end, add and mix the parsley in the mince and remove it from the heat. Let it slightly cool down and eventually add the egg white.
8. Use the half of the aubergine slices to make a layer in the oven dish. Cover the aubergine with the full mince mixture and sprinkle on top 1/3 of the Parmesan cheese. Add a layer with the remaining aubergine slices and sprinkle another 1/3 of the Parmesan cheese on top. Pour the bechamel sauce and add the remaining Parmesan cheese on top.
9. Bake it for 45 minutes to 1 hour in the preheated oven, until the top is strong and golden brown. Before serving, let it rest at room temperature for 20 minutes.