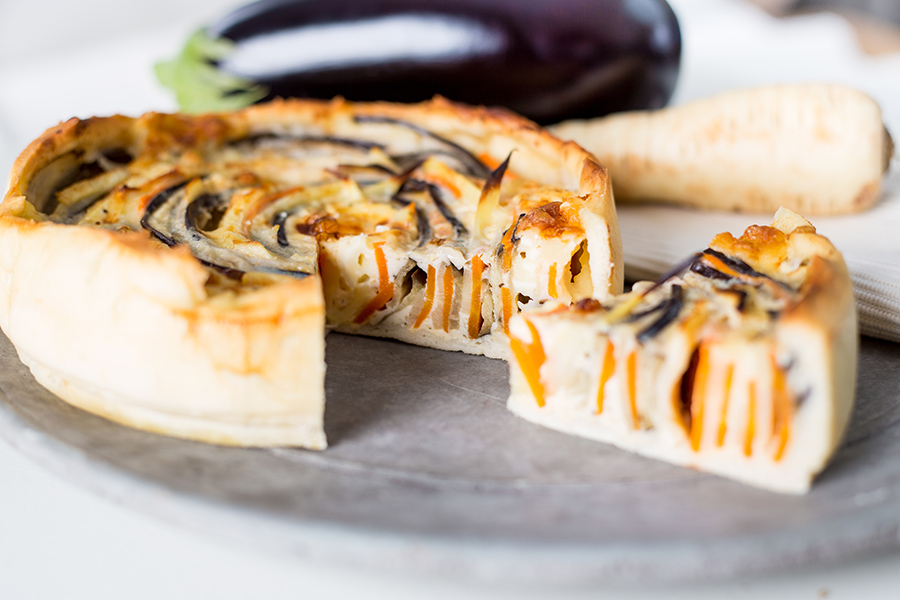 Ingredients
6 shortcrust pastries (defrosted)
2 carrots, peeled
2 parsnips, peeled
2 aubergines
200 gr Brie, lengthwise slices
2 eggs
100 ml whipped cream
4 bay leaves
4 sprigs of rosemary
24 cm baking tin
Recipe
Serves 4 |approx. 40 minutes

Preparation:
1. Preheat the oven at 200 °C. Flour the baking tin. Line the baking tin with the pastry and cut off the excessive pastry just above the tin edge. Cover the tin and refrigerate. Boil a pan of water with salt. Cut or slice the carrot and parsnip in lengthwise slices. Put them in the boiling water for 1 minute and rinse them with cold water afterwards. Split the aubergines lengthwise and cut or slice thin slices.
2. Put the vegetable and brie slices in a spiral shape in the pastry. Start from the outside until the shape is completed in the middle. Beat the eggs with the whipped cream, salt and ground pepper and pour the mixture gradually over the spiral tart. Insert the bay leaves and sprigs of rosemary.
3. Bake the cake in the oven for about 25 minutes.