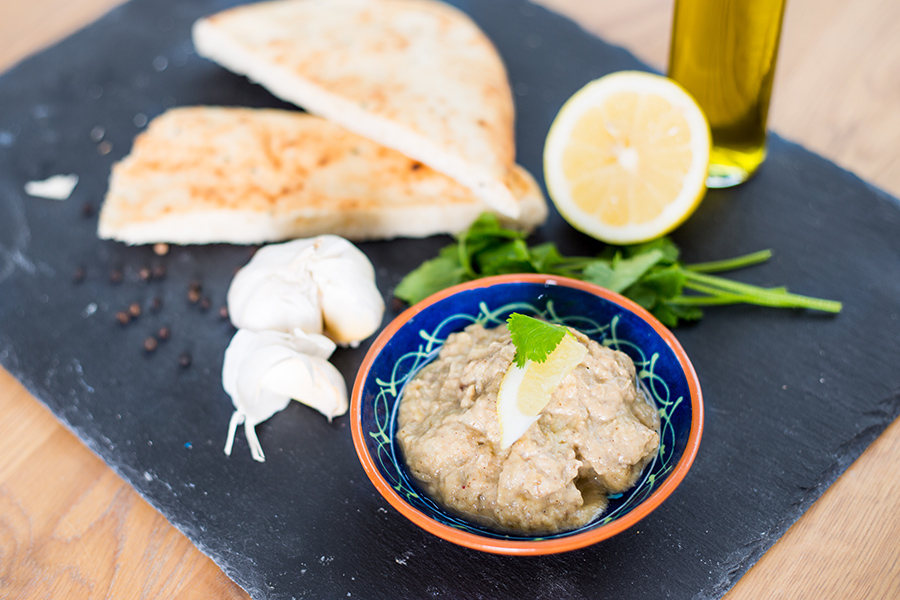 Ingredients
2 aubergines
2 garlic cloves, crushed
juice of 1 large lemon
50 gram tahini (sesame paste)
1 eetlepel tablespoon of extra virgin olive oil
1-2 theelepels of ground cumin
salt
pepper
Recipe
Serves 2 | approx. 10 minutes

Preparation:
1. Preheat the oven on 200 degrees (180 fan oven). Line the baking tray with baking paper.
2. Pierce the aubergines with a fork (do not peel them!) and place them on the baking tray. Bake the aubergine in the oven for 1 hour. Flip the aubergines after 30 minutes.
3. Let the aubergines cool down. Cut lengthwise and remove the flesh from the shell.
4. Mash the aubergine flesh in a bowl. Alternatively, you can 'pulsate' it in a food processor. Keep in mind that you want to keep some bite.
5. Add the garlic, lemon juice, tahini, and olive oil. Season the Baba Ganoush with the cumin, salt and pepper and additionally sprinkle with a little chopped fresh mint.